Iran Real Food Adventure
Booking Dates
08/12/2020 through 10/05/2020
Travel Dates
08/12/2020 through 10/17/2020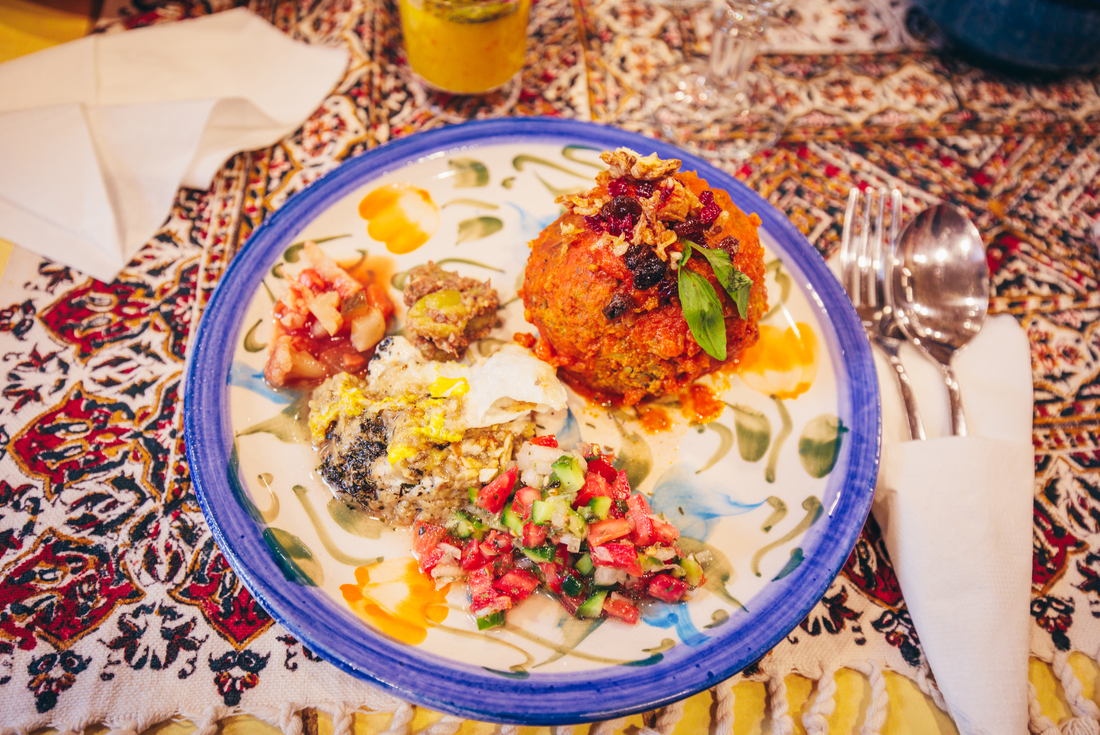 Iran Real Food Adventure

Iran's charm begins with its stunning environment – snow-capped mountains, rolling deserts, ancient cities and crowded bazaars all add to an unforgettable tapestry of a culture less experienced. However the heart of this charm truly lies in the palate – within the odorous spices, succulent meats and mouth-watering stews created through thousands of years of perfected techniques. Saffron, cheeses, crispy rice and succulent meats all contribute to full flavoured meals capable of taking anyone to another place. It'll happen to you too. Once you dine on tah chin, fesenjan or any of the other dishes on this Real Food Adventure, it'll only take a hint of saffron to throw your thoughts back into the depths of that bazaar – that unforgettable moment where the taste of Persia first hit your tongue.

Activities
Tehran – Welcome dinner with local family
Tehran – Leader-led walking tour
Tehran – Tah-Chin Morgh, Cooking Class
Tehran – Persian Medicine Workshop
Esfahan – Biryani Cooking Class (Dinner)
Esfahan – Iman Mosque entrance and guided tour
Esfahan – Ali Qapu Palace
Esfahan – Sheik Lotfallah Mosque
Esfahan – Gaz Tasting and Bazaar Visit
Yazd – Aqda Traditional House Lunch
Yazd – Leader-led walking tour
Yazd – Gheimeh Yazdi, Cooking Class (Dinner)
Yazd – Amir Chakhmaq Complex & Square
Yazd – Water Museum
Yazd – Food Focused City Orientation Tour
Yazd – Traditional Sweet Shop & Bakery Tour
Shiraz – Leader-led walking tour
Shiraz – Traditional Beverage Demonstration
Shiraz – Karimkhan Citadel
Shiraz – Vakil Bazaar
Shiraz – Pars Museum
Persepolis – Entrance and Guided tour
Persepolis – Naqsh-e Rustam Necropolis
Highlights
Cook culinary favourites in Iranian family homes – from the sumptuous spiced meat and rice of biryani to sharp and tangy fesenjan stews, you'll be tasting exotic yet oh so delightful dishes every day.
Sample regional delicacies at some of the finest sweet stores in Iran during a visit to Yazd, snacking on crunchy almond qottab or chewy soft baqlava as you experience local life passing you by.
You haven't had real kabab until you've tried Iran's version. Discover the regional variations of the national dish, including kabab koobideh (the original) and kabab barg (barbecued fillets of meat).
Learn the secrets of ancient Persian 'medicine' at a local home, where food and drink were, and still are, pivotal to overall health and wellness, and the prevention of ailments.
Discover the dazzling colours of Golestan Palace in Tehran, Yazd's old mud brick city, and the ancient city of Persepolis in between your eating escapades.
Itinerary
Destination
Pricing
Terms and Conditions
| Day | Description | View All |
| --- | --- | --- |
| Day 1 | Tehran | Details |
| Day 2 | Tehran | Details |
| Day 3 | Esfahan | Details |
| Day 4 | Esfahan | Details |
| Day 5 | Yazd | Details |
| Day 6 | Yazd | Details |
| Day 7 | Shiraz | Details |
| Day 8 | Shiraz | Details |
| Day 9 | Tehran | Details |
| Day 10 | Tehran | Details |